Count on the handcrafted Bruno Elite curved outdoor stairlift to precisely match every angle of your outdoor stairway. Designed to endure harsh weather, the Elite delivers year-round performance and Bruno's renown smooth ride. Enjoy the outdoors with the top-selling curved outdoor stairlift of Notrth America.
With Made-in-the-USA dependability, Bruno helps you stay in your home with comfort and ease.
Weather-Resistant Materials
Marine-grade vinyl, durable outdoor paint and waterproof cover protect stairlift. Performance tested 0°F-125°F (-15°C-52°C).
Effortless Operation
Armrest control glides stairlift up and down. Seat swivels up to 90° at top landing for safe exit away from stairs. Keyed remote call/send also standard.
Handcrafted Precision
Custom-made rail maximizes open space on stairs, artfully follows every angle and facilitates a smooth ride. Covered gear rack reduces exposure to grease, dirt.
Space-Saving Design
Narrow vertical rail maintains maximum open space on steps. Footrest, arms, seat fold up when not in use.
Dependable, Safe
Battery-operation ensures lift works even in power outage. Obstruction sensors and retractable seat belt keep stairlift rider safe.
Larger Seat Pad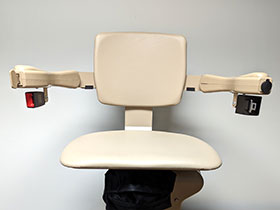 Optional larger Elite seat pad for increased comfort. 21.5″ wide x 16″ deep (546x406mm).
Larger Footrest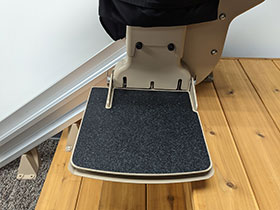 Optional larger footrest. 12″ long x 11″ wide (305x279mm).
Four-Point Harness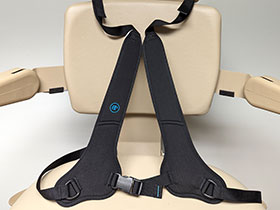 Request a four-point harness for additional securement points on the chair.